SAVE ON LABOUR COSTS
The most important benefit of ICF is the amount of labour it can save you. ICF technology has a unique combination of time and money saving design features that makes ICF fast and easy to build with.
"With ICF I spend up to 50% less on labor than I did with other ICF systems that I have used."
Gord Harris, Donkers Harris Ltd. Listowel, Ontario
SAVE ON SUB-TRADES
ICF builders keep their own crews busy and can avoid needless delays waiting for sub-contractors by building their own foundations.
"Two of the reasons I build with ICF is to get more control over the quality of my basements and to capture the margins that I used to sub-contract out."
Allan Finlayson, Allan Finlayson Construction, Cardinal, ON
REDUCED MAINTENANCE
Conventional construction can be prone to maintenance problems such as drywall pops and basement leaks. Building with ICF can solve these problems and it lets you build stronger, more durable and more energy efficient buildings for your customers.
"ICF has virtually eliminated the drywall callbacks I frequently used to receive when I built wood-framed homes."
Gerald DeRoeper, HB&R Carpentry Holland Landing, ON
BUILDING YOUR REPUTATION
The use of ICF singles you out as an adopter of innovative technology and a builder of integrity and value. Many clients are now looking at value-added alternatives to conventional construction. Builders and their customers who have used ICF speak in glowing terms of it's strength, durability and energy-efficiency.
"Building with ICF is a point of difference for me. It sets me apart from traditional builders, and gets me more business."
Jeff Becker, Redwood Homes Collingwood, ON
RELIABLE SUPPORT
At ICF, customer support goes far beyond merely answering your telephone queries. Our knowledgeable and helpful staff will put you in touch with your local authorized ICF distributor who can provide you with technical guidance and market support.
"My ICF distributor provides tremendous support. Over the years I've received numerous leads and many jobs from my distributor."
Rod Densmore Rod Densmore Contracting Ltd. Coviquet Bay, NS
COMPREHENSIVE TRAINING
Comprehensive training is a crucial component of any new technology. In this respect, Amvic is committed to providing product training to its builder-clients who want to adopt this innovative technology. Training encompasses proper ICF installation and estimating practices as well as concrete placement techniques and connection details.
"My first ICF  job was an 1800sq.ft basement. We started on a Monday with just 4 guys and were finished pouring concrete by Wednesday afternoon. Now that's fast!"
Terry Chappel, Dales Carpentry, Port Elgin, ON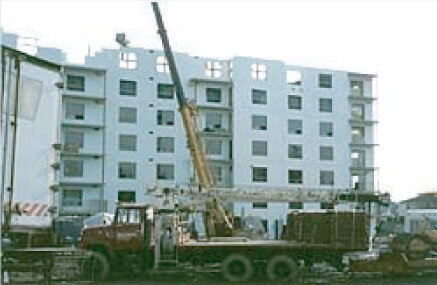 You can bet on it- Jamesway Construction group did!
Jamesway Construction Group started laying ICF block in early January and by the end of March had completed the 8 stories of this apartment complex. President Al Way and Project Manager Daryl Bender quickly learned how to build with ICF and the benefits of using the product in the middle of winter. This project is on Auburn St. in Waterloo.
ICF BUILDING TIPS
The following are a number of tips put together to help with the installation of the AIM block as well as general tips that some people have maybe forgotten since their training.
Wall tilting before pour. Always ensure that the wall is turned in towards the braces before pouring concrete. This will ensure ability to straighten the wall without having to "pull the wall" in.
Rebar placement. After the first row of rebar is placed have someone cut identical rebar lengths and lay them in front of the wall. You will find that the rebar pattern like the block will repeat itself. This saves a lot of time when the rebar is handy.
Make your window bucks up ahead of time so that when you are building you just set them in place.
Level after 2 courses. The best time to level the walls is after the 2nd course has been laid. If you are shimming the wall up then place the shim under the plastic web so there will be no compression. If the weather is right you can foam under the wall after it is level to tighten things up.
ICF is the new-generation Integrated Building Technology that is vastly superior to traditional stick framing methods.
Building technology has seen rapid advances in recent times, with builders and homeowners looking for newer, more efficient ways to build homes that are stronger, more comfortable and energy-efficient, while allowing for flexibility of design and lower future maintenance costs. With Amvic, you can save time and money and get a stronger, more comfortable and more energy-efficient home.
Insulated Concrete Form walls have up to 9 times more axial load resistance than a typical wood-framed wall. ICF technology offers enhanced protection for your home, especially in high-wind areas, and during tornadoes and hurricanes
ICF is a highly insulated concrete wall, with no air spaces or studs, that vastly reduces air filtration. When combined with an air exchange system, ICF technology helps even out the effect of external temperature swings and provides superior energy-efficiency as compared to wood-framed construction.
Insulated Concrete Form walls are built with steel reinforced concrete and fire retardant-treated expanded polystyrene foam. Compared to wood-framed walls, ICF walls are far more likely to remain standing in case of fire, and are far more resistant to the spread of fire.
Insulated Concrete Forms accurately interlocking, lightweight forms make it very adaptable to a variety of innovative and efficient designs. ICF's concrete core allows for the easy installation of doors and windows without compromising the structure of your home while curved, sloped and extra tall walls are easily built with ICF technology.
Outside cold can easily travel through a typical wood-framed wall (thermal bridging) to create uncomfortable cold spots inside your home. Insulated Concrete Form walls offer superior performance when it comes to thermal bridging and air infiltration, resulting in even temperatures throughout your home.

Insulated Concrete Form's insulated concrete core acts as an effective sound barrier, dampening sound vibrations and ensuring a serene and comfortable ambience within the home.